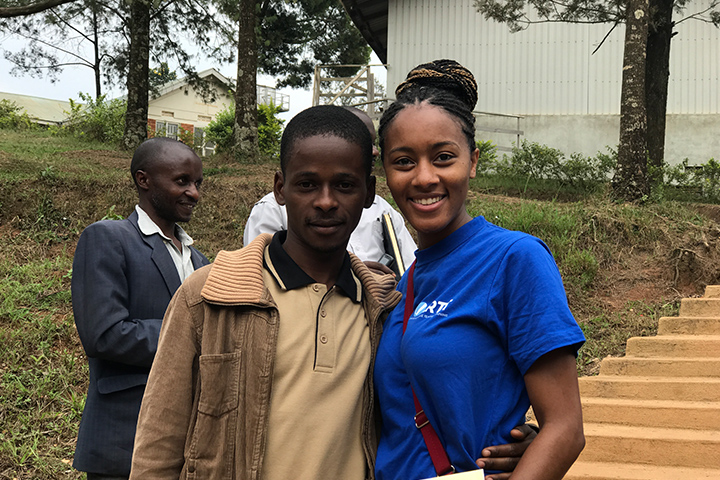 Last August, Olympic High educators Fred Williams-Harrell and Courtney Kelly were given the amazing opportunity to travel to Africa and make a real difference with local teachers there.
As part of the Limited Resource Teacher Training program, Fred and Kelly were selected to deliver transformational in-service training to teachers in a country with limited resources. The LRTT approach uses learner-centered methods, technology and modern discipline in a low-cost model which can be easily integrated into primary and secondary schools. These efforts provide an outstanding program for both novice and veteran teachers abroad, who are better prepared to combat the challenges of poor-quality education and a growing shortage of teachers by being connected with qualified teachers. The volunteer teachers involved aid in the development of their hosts' current teaching practices to inspire and empower communities of teachers around the world.
When Fred and Kelly saw an opening to volunteer for the program they both applied and, after completing a rigorous interview process, were accepted to become teacher leaders in Kanugu, Uganda. With this amazing news came the realization that their ambitious journey would require outside funding and so they turned to the Olympic Foundation, which granted them $2,500 each to put toward their fellowship. With the foundation's support, Fred and Kelly made the trip to Uganda and implemented a teacher-training model that allowed them to lead other teachers through cycles of workshops, observations and coaching sessions. These opportunities gave them both the chance to not only assist other teachers, but to also build upon their own classroom routines and instructional strategies. Furthermore, this extraordinary training helped expand their own leadership and coaching skills, which they brought back with them to the School of Biotechnology, Health and Public Administration.
Looking back on the experience, Fred and Courtney remain forever grateful to the Olympic Foundation for the their grants. Without them they would not have been able to participate in this life-changing opportunity, visiting the capital city of Kampala, Kabala, Jinja, the Equator and Kanugu. As Fred reflects, "We selected the Uganda fellowship to learn about their rich culture, food, history and lifestyle. Words cannot describe the everlasting impact that this opportunity has had on us. We share this experience with our students and fellow coworkers every chance we have, and we look forward to another opportunity."